Cobalt Octate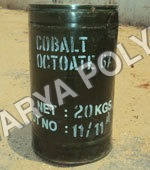 Cobalt Octate
Product Description
Alpha Chemie is the pioneer in the manufacturing of dryers for paint and other industries.They also manufacture other cehemicals.Alpha chemie is a Government recognized exporter in the chemical category for polyester resin applications the accesslerators manufactured by alpha chemie is best in india.The product range of alpha chemie.
User Level
Accelerator is used elong with catalyst to gel Unsaturated Polyester resin from liquid state to solid state.
The follwing levels based on weight of resin are recommended.
Accelerator - 6% 1 to 1.5 %
Accelerator - 2% 1.5 to 2 %
The Quality will vary with different resins according to the gel time and room temperature.